BOOK TRANSFER FROM/TO NICE OR CANNES RIGHT NOW
Welcome to the website TransferNiceTaxi.com!

TransferNiceTaxi offers high quality services for passenger carrying by luxury cars and minivans.

At the site you can order transfer from airport in Nice, Nice Cruise Port, Cannes, Antibes, Menton, Saint-Tropez, San Maxime, Marseille Cruise Port or Monaco to other destinations in France, Italy or Spain. We offer, as well, per-hour lease of any of our automobiles in Nice, Cannes and Monaco or its nearest towns. You can review the offered automobiles at the Automobile Fleet page.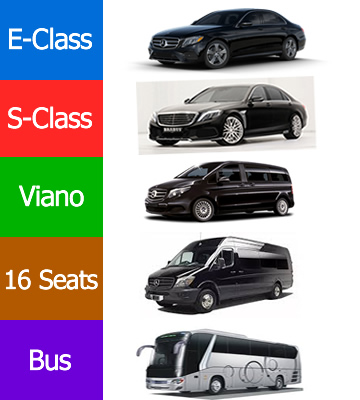 We can also arrange your meeting at the railway station (Gare de Nice-Ville) and transfer to the hotel or Cinema Festival at a fixed price. Go to the Routes page to review the fair rates and the fixed prices for particular routes.

If you wish to book a transfer or an automobile per-hour lease, please send your request from the page Order or call our operator, the phone numbers are shown at the site. The operator will assist you with choosing the best option and will send you a written confirmation of the order. Our operators speak English, French, Italian and Russian.

We warrant you privacy and quality of the delivered services.

If you wish to cooperate with us or send a comment or a suggestion, please use the Feedback Form at the page Contacts.
Transfer from Nice Airport to Nice, Cannes, Monaco and Saint-Tropez.

COMMENTS FROM OUR CUSTOMERS
"От лица компании Tez Tour, хочу поблагодарить компанию Tranfser Nice Taxi Ltd за качественно оказанный сервис в проведении трансфера для клиентов нашей компании. За почти 7 лет сотрудничества не бало ни одного замечания по работе, заказы были выполнены качественно и своевременно. Мы и впредь будем обращаться только к Вам! "
Ирина Полякова (Москва, "Tez Tour")
"Ha fatto ripetutamente richiesta di servizi alla compagnia "Tranfser Nice Taxi" per il trasferimento dall'aeroporto a Nizza e in altre città della Francia. Servizio eccellente, auto nuove e pulite, autista puntuale e reattivo. Raccomando a tutti!"
Mirko Ciccioli (Chivitanova Marche, "Mirko Ciccioli")
"Cette société assurait le transport de nos touristes depuis / vers le port de croisière à Nice. Le conducteur a fourni des faits pertinents en cours de route. Nous sommes venus nous chercher à notre hôtel et nous ont livrés au bateau - pas de problèmes du tout!"
Isabelle Orni (Paris, "ParisByM")
OUR SERVICES
Fixed prices
On our site you can order transfer from Nice Airport Côte d'Azur, Monaco Monte-Carlo, Saint-Tropez, Cannes, Sainte-Maxime, Marseille Airport airports or Nice Cruise Port at fixed price. Our driver will meet you at the exit from Customs zone holding a plate with your name, he will help you to carry your luggage to the car.
Per-hour lease
We offer, as well, per-hour rental of any of our cars in Nice or its nearest towns. The per-hour lease of our automobiles is shown at the page Automobile fleet
Safety, comfort
All the automobiles are equipped with safety and mobile communications devices. Our drivers have many years of experience, they will ensure you a trip with maximum comfort
Other services
If needed, we can give you an interpreter or a guide in Nice and other cities on Cote d'Azur.
Other transfer services
7 passengers minivan
Nice Cannes Transfer
Cote Azur Nice transfer
Cannes Nice transfer
Nice airport taxi
Monaco Nice transfer
Private car in Nice
Minivan lease Nice
Nice Saint-Tropez 6 pax
Nice Marseille transfer
5 passengers minivan
Nice San Maxime transfer
Cannes Festival 7 pax taxi
Nice Saint Tropez transfer
taxi in Nice and Cannes
Mercedess Viano Saint Tropez
per-hour lease Nice
Railway Station Nice to Monaco
airport taxi 6 persons
How to get from Monaco to Nice Airport
Nice France taxi 5 seats